Buying into the world of high-end beauty can be frustrating and more often than not, expensive.
A report by InStyle found that over the course of her lifetime, the average woman will spend $15,000 on beauty products alone. We say, that's crazy! If makeup is responsible for a hefty chunk of your beauty budget, we've got some great savings opportunities for you.
Of course, while shopping for new makeup at the drugstore, there's no way to test or try before you buy. Plus, with all the different brands and products, how will you differentiate the value?
The good news? There's no need to stress. The FreeShipping.com team has already done the work for you. After searching the web for the bestselling, highest-reviewed items, we're revealing our findings with this list of high-value drugstore makeup products.
All are popularly recommended by both professionals and everyday consumers, like you. The best part? All the below items are under $15 and available at your local drugstore.
Sit back, relax and get ready to kickstart your beauty savings with these top-rated drugstore makeup products.
Best In: Liquid Foundation
L'Oréal® Paris Infallible Pro-Matte Foundation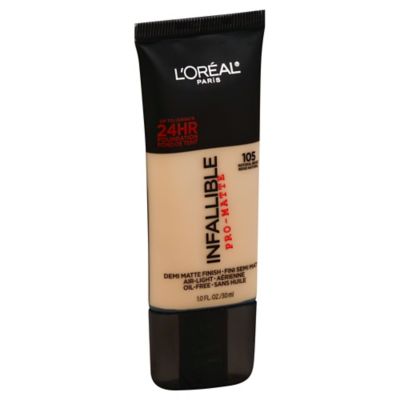 If you're looking for a matte look with long-lasting coverage, this foundation by L'Oréal® is absolutely for you. It's oil-free, and it instantly gets rid of any lingering shine on your face. Plus, it lasts 24-hours. This product is a must-have.
$11.99 at Bed Bath & Beyond
Best In: Mascara
Super Sizer by LashBlast Mascara
This volumizing mascara provides a bold look with 400% corner-to-corner volume. The lash styler is flexible and twirls as you apply, making lashes of all sizes stand out unmistakably.
$7.76 at Walmart
Best In: Eyeliner
Maybelline Line Stiletto Ultimate Precision Liquid Eyeliner
You can create both a dramatic and natural look with this liquid eyeliner by Maybelline. The tip of the pen is thin, precise and flexible allowing for a seamless application without any smudges. Apply a thin line for everyday wear or apply heavier at the outer corners for a dramatic, going-out look.$7.99 at Walgreens
Best In: Powder Foundation
L'Oreal True Match Powder
Not only does this powder provide all over coverage, it comes in a variety of colors and will adjust and match perfectly to your exact skin tone. Whether you have warm or cool undertones, there's an exact shade for you.
$8.99 at Harmon Face Values
Best In: Eyeshadow
E.l.f Baked Eyeshadow Trio
You won't have to double dab your eyeshadow brush with this trio by e.l.f since its vibrant, shimmery consistency slides flawlessly across your lids. The shadow is also infused with ingredients like jojoba, rose, sunflower, apricot and grape to nourish your skin, which is always a plus.
$4.00 at e.l.f cosmetics
Best In: Lip Color
NYX Soft Matte Lip Cream
This little tube of heaven by NYX is the perfect mix between lipstick and gloss and it comes in dozens of different shades! The cream applies silky smooth to your lips and finishes as a seamless matte texture.
$5.99 at Ulta Beauty
Best In: Eyebrows
Maybelline New York EyeStudio Brow Define and Fill Duo
This multi-use eyebrow pencil by Maybelline allows you to fill in your brows to perfection and then blend the color with the smudge tool on the opposite end. You'll have fierce, celebrity eyebrows in no time!
$7.99 at Kmart
Best In: Concealer
Revlon PhotoReady Concealer
You'll be amazed at the magical works of this concealer by Revlon when it comes to making blemishes disappear. It's been tested under the harshest lighting condition to ensure full, flawless coverage of any problem areas you may have.
$8.59 at Harmon Face Values
Best In: Bronzer
NYX Matte Bronzer
This NYX bronzer will give you a sun-kissed look or dramatic depth depending on what you're in the mood for. It's matte texture won't add all the unwanted shine and its neutral color won't turn your skin orange.
$8.99 at Bed Bath & Beyond
Best In: Highlighter
Physicians Formula Pearls Powder Palette
The multi-colored pearls within this illuminating powder by Physicians Formula allow for a glowing complexion. It appears natural on the skin and it's made from real mineral pearl extract and other antioxidant properties that nourish the skin.
$13.99 at Walgreens
Love these products? Save even more with FreeShipping.com!
The greatest part about these amazing drugstore makeup products is all the available savings when you shop through FreeShipping.com. Our members have exclusive access to 10% cash back, free shipping, free unlimited returns, price protection, price comparison and all the latest coupons at over 1,000 online retailers. If you're ready to kickstart your savings and channel your savvy shopper status, sign up for your introductory trial today!