Being a female is frustrating, time consuming and more often than not, far too expensive.
A report by InStyle found that over the course of her lifetime, the average woman will spend $15,000 on beauty products alone. Makeup is responsible for a hefty chunk of our beauty spending and if you're into high-end makeup products, you're probably aware that it's going to cost you. Buying from a store that sells makeup from top brands has its advantages, but, makeup has a shelf life and spending that much on a monthly basis can really start to break the bank.
So, if we want to beautify on a budget, we'll have to pay a visit to our local drugstore, a place that offers hundreds of options yet prohibits you from testing any of them before you buy. Not to mention the price of drugstore makeup isn't all that cost-friendly anymore, either. Seriously, we can't win with this battle.
For a moment, let's forget about declaring bankruptcy by designer makeup brands and do away with taking a shot in the dark at the drugstore. The Internet is a wonderful thing, and we've used it to put together a list of the top-rated drugstore makeup products recommended by both professionals and everyday consumers, like you.
Below are the highest-rated, most buzz-worthy makeup products that you can find at your local drugstore, and they're all under 15 dollars.
Foundation
L'Oréal® Paris Infallible Pro-Matte Foundation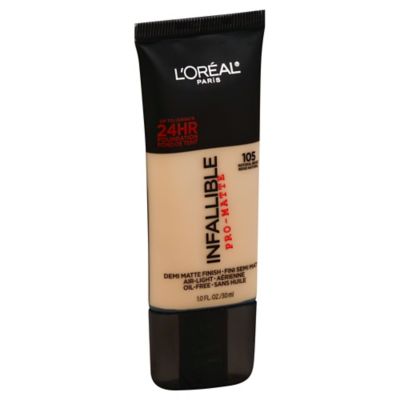 If you're looking for a matte look with long-lasting coverage, this foundation by L'Oréal® is absolutely for you. It's oil-free, and it instantly gets rid of any lingering shine on your face. Plus, it lasts 24-hours. This product is a must-have.
$11.99 at Bed Bath & Beyond
Mascara
Super Sizer by LashBlast Mascara
This volumizing mascara provides a bold look with 400% corner-to-corner volume. The lash styler is flexible and twirls as you apply, making lashes of all sizes stand out unmistakably.
$7.76 at Walmart
Eyeliner
Maybelline Line Stiletto Ultimate Precision Liquid Eyeliner